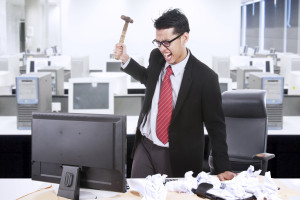 A disgruntled employee who repeatedly threatened to shoot and kill his managers can't sue his employer for disability discrimination even with a depression diagnosis, the Ninth Circuit ruled Tuesday. Timothy Mayo, a welder at PCC Structurals, told at least three of his co-workers that he wanted to bring a shotgun to work and "blow off" the heads of a supervisor and another manager, according to the three-judge panel's opinion (9th Circuit).
The employee did not sound like he was joking. He went on to discuss the logistics of such an attack, explaining that he would plan to come to the office at 1:30 p.m. because "that's when all the supervisors would have their walk-through." Mayo's co-workers reported the threats, and when the company's human resources manager asked Mayo whether he actually planned to carry the threats out, Mayo said that "he couldn't guarantee he wouldn't do that," according to the court's decision.  The manager suspended Mayo, barred him from company property, and the company called the police. When a police officer visited Mayo at his home that night to discuss the threats, Mayo admitted to making them and mentioned the people he had in mind. He also admitted to owning several guns, though he had not decided which one to use, according to the opinion. When the officer asked Mayo if he planned to go to the company and shoot people, Mayo reportedly said, "Not tonight." Mayo was then consensually hospitalized, where he remained in custody for six days before a psychologist cleared him to return to work because he was not a "violent person." The psychologist did, however, recommend a new supervisor to be assigned to Mayo. Shortly afterward, PCC fired Mayo.
Mayo sued the company in state court, claiming that his firing violated the Americans with Disabilities Act because his threats were symptoms of his depression – a qualifying disability, according to the lawsuit.  The case was removed to Federal Court, which ruled that Mayo did not meet the ADA requirement of a "qualified individual" and dismissed the man's suit. The court stated "an essential function of almost every job is the ability to appropriately handle stress and interact with others." "And while an employee can be qualified despite adverse reactions to stress, he is not qualified when that stress leads him to threaten to kill his coworkers in chilling detail and on multiple occasions."
The court added that "an employee whose stress leads to serious and credible threats to kill his co-workers is not qualified to work for the employer, regardless of why he makes those threats."
This holding is very fair and logical, and it's hard to imagine how a court would hold that an employer is obligated to accommodate an employee who threatens his management or co-workers with violence, let alone with killing them. In fact, the employer has the opposite obligation – to promptly address such threats. And, banning such an employee from the employer's premises is the only right thing to do.