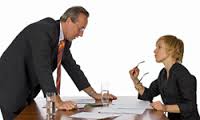 The following is is a list of things that employers often do, which might seem unfair or hurtful, but generally not illegal (in the absence of specific evidence of discrimination or unlawful retaliation) in an at-will employment setting:
(1) Issuing unfair performance reviews or warnings
An employer is entitled to a subjective view and opinion of your  job performance. The fact that you disagree with your review or believe it's false or unfair, and the fact that you think that you are very good at what you do, doesn't make that evaluation illegal. The same applies to warnings or any other disciplinary action.