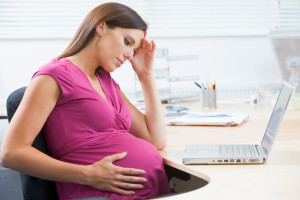 Several laws protect California women from pregnancy discrimination at workplace. These laws interact with each other in complex ways. Each law and protection may or may not apply depending on the size of the employer, the employee's length of service, and other facts. Some leaves run concurrently, while others don't.
There are three statutes that directly related to leave during and after pregnancy: California Pregnancy Disability Leave Law (PDLL), California Family Rights Act (CFRA) and the federal Family and Medical Leave Act (FMLA)
California's Pregnancy Disability Leave Law is the most inclusive and should be looked at first in determining a woman's entitled to protected leave. All California employers with at least five employees are covered. Pregnancy disability leave is available regardless of a woman's length of service with a covered employer, and it is available to both full and part-time employees.
The PDLL provides women with up to four months of leave for disabilities caused by pregnancy, childbirth, or related medical conditions. PDLL also requires employers to reasonably accommodate any restrictions tha are advised by a woman's health care provider. According to the Employment Development Department, women with normal pregnancies typically receive disability benefits for up to six weeks after giving birth. Women who have c-sections or any number of other complications relating to pregnancy or childbirth will likely be entitled to longer leave periods.
It is important to note that the fourth months of protected leave is a floor, not a ceiling. While the law provides that it is unlawful for employers to refuse to allow a leave "for a reasonable period of time not to exceed four months," Gov. Code section 12945(a), it also provides that if a pregnancy related medical condition or disability requires more than four months of leave, "the employer must treat the employee the same way regarding reinstatement rights as it treats any similarly situated employee who has taken a similar length disability leave.
California's PDLL has more protective reinstatement rights than other leave laws. Under this law, a woman must be returned to the same position at the end of her leave. There are only two exceptions to this rule: (1) when the employee would not otherwise have been employer in her same position at the time reinstatement is requested for legitimate business reasons unrelated to the employee taking a pregnancy disability leave or transfer;" and (2) when "each means of preserving the job or duties for the employee would substantially undermine the employer's ability to operate the business safely and efficiently. If an employer is excused from reinstating a woman to her same position, she must be reinstated to a comparable position unless there is no comparable position available.
PDLL is an essential protection because many women who become pregnant are not entitle to leave under the more familiar FMLA and CFRA provisions. Those laws only apply to employers with at least 50 employees working within a 75 mile radius of the affected employee's job site. In addition, FMLA and CFRA only apply after a woman has worked for her employer for at least one year and 1250 hours during that past year.
The important difference between FMLA and CFRA is that FMLA leave generally runs concurrently with the pregnancy disability leave CFRA does not, and in fact it expressly excludes disabilities due to pregnancy, childbirth, and related medical conditions. Thus, some women may qualify for four months of disability leave and an additional twelve weeks of leave under CFRA. It is important to note that if a woman decides to take both, the pregnancy disability leave and CFRA leave, her right to reinstatement will be governed by CFRA and not PDLL. This means that she will be entitled to a comparable position rather than the same position when reinstated.
It should be noted that the PDLL, CFRA, and FMLA all provide for unpaid leave. State disability and Paid Family Leave (PFL) may provide partial wage replacement during a period of leave.
If you believe that you have been singled out, treated unfairly, discriminated against or terminated due to pregnancy, contact Arkady Itkin, San Francisco employment lawyer to discuss your claims.