One exemption from overtime compensation under Fair Labor Standards Act is known as the "Outside Salesperson Exemption." This exemption permits an employer to not pay overtime as otherwise required under California law, but only if a particular worker (a) has the primary duty of (a) making "sales" or (b) obtaining orders or contracts for services or facilities usage, and
(b) is customarily and regularly engaged away from the employer's place of business in performing such primary duty.
The information above can be found at 29 USC § 213(a)(1) and 29 C.F.R. § 541.500. In order to qualify for this exemption under California law, however, the employee must spend more than 50% of his/her working time performing truly-exempt sales functions away from the employer's business establishment (or away from the employee's home, if that is where the employee is normally based).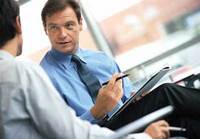 Another commonly applied overtime exemption applies to primarily commission-based salespeople. Section 7(i) of the Fair Labor Standards Act (29 USC § 207[i]) will exempt a particular employee from overtime compensation if:
(a) the employee is employed in a "retail or service establishment," and
(b) the employee's regular rate of pay exceeds one and one-half times the applicable minimum wage, and
(c) more than half the employee's compensation for a representative period represents commissions on goods or services.
Note that the "regular rate of pay" language, referenced in the above federal test, applies on a workweek basis. This means that the average of compensation for two or more weeks does not satisfy this requirement.
If you have any questions about overtime or your rate of compensation in California, contact San Francisco employment lawyer Arkady Itkin to address your concerns about wages.