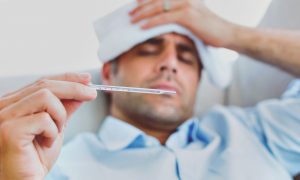 California Family Rights Act (CFRA) is a part of FEHA (Fair Employment and Housing Act) and generally provides that it is unlawful for an employer to refuse an employee's request for up to 12 weeks of family care and medical leave in a year. An employer is also forbidden from discharging or discriminating against an employee who requests family leave or medical leave. Family care and medical leave includes leave because of an employee's own serious health condition that makes the employee unable to perform the functions of his position. "Serious health condition" means an illness, injury, impairment, or physical or mental condition that involves either of the following: (a) Inpatient care in a hospital, hospice, or residential care facility; (b) Continuing treatment or continuing supervision by health care provider.
To be eligible for CFRA leave, an employee must have more than 12 months of service with the employer and have at least 1,250.00 hours of service with the employer during the previous 12 months of employment. It is important to note that this condition must be satisfied not at the time the employee suffered an adverse employment action (termination, suspension, etc.), but whether the employee was eligible to take CFRA leave when she took the leave that resulted in adverse employment action.
It is also unlawful to retaliate against an employee for exercising his rights under CFRA. The Dudley v. Caltrans 90 Cal.App.4th 255 was the first court to outline the elements of proving CFRA retaliation, adopting FMLA retaliation analysis used by the federal courts. The court concluded that the elements of retaliation claim under CFRA are as follows: (1) the defendant was the employer covered by CFRA; (2) the plaintiff was an employee eligible to take CFRA leave; (3) the plaintiff exercised her right to take leave for a qualifying CFRA purpose, and (4) the plaintiff suffered an adverse employment action, such as termination, fine, demotion, or suspension because of her exercising her right to CFRA leave.