Many employers include a "standard" arbitration provision in their employment contracts or employee handbooks, which provides that any and all disputes arising out of the employer-employee relationship must be referred to mandatory arbitration instead of being litigated in jury trial. Generally, a mandatory arbitration provision is in the employer's interest. Please read about some of the reasons why employers may prefer arbitration of employment disputes over jury trial.
California law, like federal law, favors enforcement of of valid arbitration agreements. Broughton v. Cigna Healthplans (1999). However, a court may strike down an employer-employee arbitration agreement and find it to be invalid and unenforceable, referring the wrongful termination, discrimination, retaliation, or other employment related dispute for jury trial. One of the most common reasons that courts find certain arbitration agreements to be unenforceable is because these agreements are unconscionable.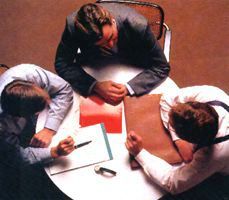 The California Supreme Court has a very informative and detailed discussion regarding the enforceability of arbitration agreements in Armendariz v. Foundation Health Psychcare Services, Inc. 24 Cal.4th 83 (2000). In that case, the Court reiterated the holding in Gilmer v. Interstate/Johnson Lane Corp. (1991) 500 U.S. 20, noting that an arbitration agreement is lawful if is (1) provides for a neutral arbitrators, (2) provides for more than minimal discovery, (3) requires a written award, (4) provides for all of the types of relief that would otherwise be available in court; and (5) does not require employees to pay either unreasonable costs or any arbitrator's fees or expenses as a condition of access to the arbitration forum.
Generally, an employment arbitration agreement will be denied enforcement by courts if it's unconscionable. Employment arbitration provisions are commonly struck down as unconscionable when they provide that any claims that an employee has, have to be referred to mandatory arbitration, without mentioning that the employer's claims also can only be resolved through arbitration. This is called "lack of mutuality." In other words, an arbitration agreement is unenforceable if it gives materially more rights to the employer than an employee. Thus, if the employee is denied the court forum for resolving his disputes while the employer is not, the arbitration agreement providing for such a provision will likely be invalidated.
The other common reason that the arbitration agreements are found unconscionable in the context of wrongful termination or other employment claims in California is when the agreement does not permit the full recovery of damages for employees, while placing no such restriction on the employer. Thus, the Armendariz court found the arbitration contract limiting the employees' damages to the amount of back pay lost until the time of arbitration to be an unconscionable limitation, contributing to the unenforceability of the agreement.
If you have any questions about your employment contract or any specific provisions in the agreement, including arbitration provision, feel free to contact San Francisco employment lawyer Arkady Itkin to address your concerns.